Online version of the 2013-14 Department of Health Annual Report
Staffing
As at 30 June 2014, the Department of Health employed 3,464 staff including those at the Therapeutic Goods Administration (TGA), National Industrial Chemicals Notification and Assessment Scheme (NICNAS), and Office of the Gene Technology Regulator (OGTR). This figure compares with 5,308 as at 30 June 2013, and includes staff on leave and secondment, and inoperative staff.
A total of 1,380 staff transferred to the Department of Social Services and the Department of the Prime Minister and Cabinet due to Machinery of Government changes. A total of 64 staff transferred to the Department from the former Department of Regional Australia, Local Government, Arts and Sport.
Figure 3.4.1: Distribution of Staff Across the Department
The percentage of our staff who are employed on a non-ongoing basis has continued to decrease, as a result of the Department's Managing Staff Numbers principles (Workplace Change section refers). 3,301 people were employed on an ongoing basis in 2013-14. 163 were non-ongoing. Figure 3.4.2 below shows how this has changed over recent years.
Figure 3.4.2: Percentage of non-ongoing staff employed by the Department from 2011-12 to 2013-14
Figure 3.4.3: Reduction in Staffing Profile in the Department from 2011 to 201466
Total Department head count (excluding ageing)
The Department's staffing profile has continued to reduce since 30 June 2011, with the core Department reducing by 428 Average Staffing Level (ASL) or 14.5 per cent, with the effects of Machinery of Government (MoG) changes removed for comparison. Further reductions in the core Department will lead to a total reduction of 24.3 per cent over seven years. These reductions are being achieved through reducing non-ongoing staff, voluntary redundancies, natural attrition and internal redeployment. The Department will continue to focus on internal redeployment to retain capacity to implement budget measures and deliver key Government priorities.
Productivity gains
The Department is achieving significant gains in productivity. Figures 3.4.4 and 3.4.5 (which have been adjusted for MoG changes) are the best simple indicators of productivity growth available to the Department. Figure 3.4.4 compares the growth in total funds under management with the reduction in staffing to date and forecast.
Figure 3.4.5 shows that in 2007-08 the Department was managing $16.4 million in administered funding per staff member, and in 2014-15 is managing approximately $24 million per staff member (in real terms, 2014-15 base year). This represents a 45 per cent productivity increase since 2007-08. By 2017-18 this is expected to grow to $28 million per staff member – a productivity increase of 72 per cent since 2007-08 in real terms.
Figure 3.4.4: Administered Funds / Average Staffing Level (ASL) Comparison (in constant prices)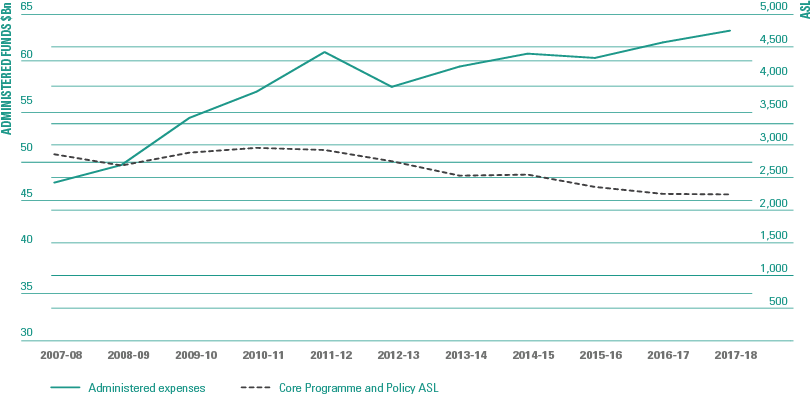 Figure 3.4.5: Administered Funds per ASL (in constant prices)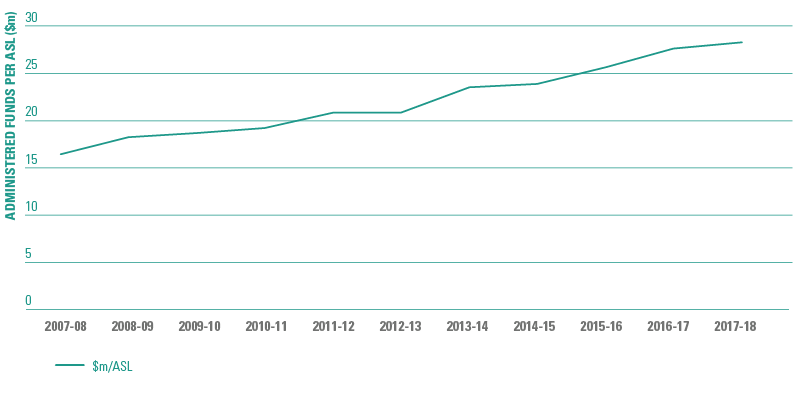 Staff retention
The ongoing employee retention rate remains high, with 89 per cent of ongoing employees remaining in the Department for the past 12 months. There was a small reduction from 91 per cent in 2012-13.
Staff turnover
The ongoing staff turnover rate is 11 per cent, an increase from 8 per cent in 2012-13. This includes the departure of a number of staff through a programme of voluntary retrenchment.
During 2013-14, staff were asked to express their interest in being considered for a voluntary redundancy (VR). The Department focused on reducing Executive Level staff in line with the work to improve the EL to APS staff ratio. The expressions of interest were considered and ranked by the Department's Senior Executive in terms of their skills and the ongoing operational needs of the organisation. Those staff with skills rated as less or moderately important were provided with a VR estimate for their consideration. Only staff who requested a formal offer of VR were retrenched. The Department has not had any involuntary redundancies.
Workplace change
As highlighted in the Overview of the Department, the Administrative Arrangements Order of 18 September 2013 resulted in the following Machinery of Government changes for the Department:
ageing and aged care programmes transferred to the Department of Social Services;
certain Indigenous functions transferred to the Department of Prime Minister and Cabinet;
sport and recreation (excluding Indigenous sport) transferred to the Department from the Department of Regional Australia, Local Government, Arts and Sport (now abolished) including the transfer of the Australian Sports Commission, the Australian Sports Foundation, and the Australian Sports Anti-Doping Authority to the Health portfolio; and
the National Mental Health Commission, as an Executive Agency from the Prime Minister and Cabinet portfolio, transferred to the Health portfolio.
The following workplace changes occurred in relation to these transfers:
54 staff within the sports programme from the former Department of Regional Australia, Local Government, Arts and Sport were transferred to the Department of Health on 20 September 2013, with a further 10 corporate staff transferred on 8 November 2013;
1,318 staff within ageing and aged care programmes and associated corporate staff were transferred to the Department of Social Services. An initial transfer of 1,232 staff from ageing and aged care programmes took place on 11 October 2013, with 74 associated corporate staff being transferred on 16 December 2013. An additional 12 IT staff transferred on 16 April 2014;
62 staff within Indigenous sport programmes, Indigenous mental health and drug treatment programmes, Office of Aboriginal and Torres Strait Islander Health strategic policy functions and associated corporate staff were transferred to the Department of the Prime Minister and Cabinet. An initial transfer of seven staff involved in Indigenous sports functions took place on 25 October 2013, with the remaining 55 staff being transferred on 5 December 2013.
During these changes, the Department worked carefully to ensure that accommodation and IT support continued for the transferred staff, in agreement with the other agencies involved.
In addition to the staffing changes resulting from the Machinery of Government, significant changes occurred to the structure and staffing of the Department in 2013-14, to place the Department in a more sustainable position. Staff consultation informed business planning processes to determine the most effective and affordable structure, to position the Department to meet future challenges and priorities within its budget.
To ensure the Department operated within existing resources, the Managing Staff Numbers principles and actions were implemented during 2013-14. Key principles included:
reassigning internal ongoing staff to fill vacancies;
reducing senior and middle management numbers; and
ensuring positions were classified correctly and that work was undertaken at the right level against the work level standards.
Grant Services Division
A new Grant Services Division was established on 21 October 2013 to centralise grant administration services within the Department. Following this, a new structure came into effect across the Department in December 2013.
During this period, a broad organisational change programme was undertaken to support staff, which included workshops, training, the provision of change management resources, and access to the Department's Employee Assistance Programme.
Business Services Centre
On 1 December 2013, a Business Services Centre (BSC) was established as a replacement for the Department's previous Reassignment Stream. Staff identified as being in roles that were no longer funded were transferred to the BSC on commencement of the new Departmental structure.
The BSC was used to undertake unfunded work, and provide surge capacity for work that would otherwise have been undertaken by non-ongoing staff. BSC staff were given first priority when filling funded roles as they became available in the Department.
Regional Offices
As a result of the Machinery of Government changes announced by the Prime Minister on 18 September 2013, responsibility for aged care was transferred to the Department of Social Services. This required changes to the staffing profiles in our former state offices – as a number of staff in these offices were undertaking aged care-related roles.
Within the Grant Services Division, a new Regional Service Grants Branch was established to perform grant administration functions for all regional health grant programmes and for all Indigenous health service delivery, mental health and primary care grants. This was achieved through maintaining smaller regional offices to provide local knowledge, facilitate community planning and to manage stakeholder relationships.
Workforce planning
The Department's Workforce Plan 2013-2015 maps existing and anticipated business outcomes against current and future workforce capabilities. This informs strategic workforce planning decisions throughout the organisation. The underpinning strategies include a Learning and Capability Development Strategy, a Talent Management Strategy (to build future leadership), a Critical Role Skills Development Framework (to mitigate critical role risk), and a new programme for the development of middle managers.
During 2013, the Department implemented the APS Job Family Model designed to provide consistency across the Department and broader APS in defining job roles and capabilities. This initiative will enable the Department to take a more strategic approach to workforce planning through workforce segmentation. In addition, work commenced on the Health Workforce Capability Framework, to efficiently and effectively identify critical capability gaps that can impact on delivery of business objectives.
Managing performance
The Department is committed to effectively managing staff performance. At the individual level, staff and their supervisors engage in a formal bi-annual Performance Development Scheme (PDS) process.
In managing the performance of staff at the operational level, the Department continues to focus on developing staff and manager capability through the 'Developing High Performance in the Department' Project. This initiative includes dedicated human resources support for managers in all areas of staff performance, including a comprehensive intranet portal, review and amendment to the Department's PDS framework and development of management training based on the APSC Performance training module. This initiative is intended to provide participants with practical people management techniques, and review and update the core management capability development courses offered to managers.
Workforce inclusivity
The Department applies the principles of workplace diversity, including valuing and using individual differences so that collective understanding and creativity is enhanced, and respecting individual differences.
In April 2014, the Department held its first Health Diversity Conference. The conference was held over two days, with the theme of 'building an inclusive culture'. It provided an opportunity for all staff to come together to recognise and celebrate diversity within the Department. The conference also provided an opportunity for the Department's diverse staff networks (Disability, Aboriginal and Torres Strait Islander and Health Pride) to work together in building inclusivity in the workplace.
The Department is undertaking a number of projects under the banner of workplace diversity, including the development of a Departmental Workplace Diversity Programme 2013-2016, the development of a Sexual Orientation and Gender Diversity Action Plan, and a review of the Aboriginal and Torres Strait Islander Staff Workforce Action Plan.
Supporting staff with a disability
The Department is committed to workplace inclusion and diversity, has two Senior Executive Disability Champions and is implementing its Disability Workforce Action Plan 2011-2015. Copies of the plan were provided to the Australian Public Service Commission (APSC) and the Australian Human Rights Commission.
The Department is a member of the Australian Network on Disability and has an active Staff with Disability Network. The Department provides support for the network, works with it to deliver inclusion activities for staff and awareness raising events such as International Day of People with Disability.
The Department participated in the APS 1 Business Traineeship for people with intellectual disability, which was completed in December 2013. Of the seven trainees, four were engaged to the Department at the completion of the traineeship. The Department is also participating in the Recruitability Pilot Project run by the APSC to increase numbers of people with disability in the APS.
Supporting staff from Aboriginal and Torres Strait Islander backgrounds
The Department launched its fourth Reconciliation Action Plan 2013-2017 in NAIDOC Week during July 2013, and is making progress against the plan, including through recruitment and retention strategies that positioned the Department to maintain Aboriginal and Torres Strait Islander staffing at 1.6 per cent by 30 June 2014, following Machinery of Government changes and a reduction of staff in Regional Offices. Further work is being undertaken by the Department to attract and retain Aboriginal and Torres Strait Islander staff, including identifying and promoting opportunities for mobility between APS agencies.
The Department also continues to be a Supply Nation67 member, supporting Supply Nation Certified Indigenous business suppliers to achieve success and build vital businesses. The Department continues to enter into contracts with Aboriginal and Torres Strait Islander businesses and receives Supply Nation self reports regarding purchases and contracts with their listed certified suppliers.
The Department has an active National Aboriginal and Torres Strait Islander Staff Network, a Friends of the Network, a Senior Executive Diversity Champion, an annual Diversity Conference and offers online Cultural Awareness training to all staff.
The Department recognised days of significance for Aboriginal and Torres Strait Islander peoples, including National Apology Day, Reconciliation Week and NAIDOC Week which included the annual Secretary's NAIDOC Week Awards. A target of delivering at least five Aboriginal and Torres Strait Islander events per year is indicated in the current Reconciliation Action Plan with a total of 12 events delivered in 2014.
Under the APSC Indigenous Pathways programme, three graduates, ten trainees and two cadets commenced with the Department in 2013. Six trainees graduated in May 2014. Two graduates and one Indigenous Australian Government Development Programme participant were engaged in 2014.
Supporting lesbian, gay, bisexual, transgender and intersex (LGBTI) staff
The Department established the Health Pride Network for LGBTI staff and allies at the first Health Diversity Conference in April 2014. The Department provides support for the new network and works with it to deliver inclusion activities and training for staff.
The Department has two Senior Executive Health Pride Champions, is a member of Pride in Diversity, and attends community of practice LGBTI and human rights meetings across the Australian Public Service.
Employment arrangements in the Department
The Department's practices for making employment arrangements with its staff are consistent with the requirements of the Australian Government Public Sector Workplace Bargaining Policy and the Fair Work Act 2009. The types and main features of employment arrangements either in operation or available to Departmental staff during 2013-14 are outlined below.
Enterprise Agreement
Terms and conditions for employment of non-Senior Executive Service staff are provided through the Department's Enterprise Agreement which began on 30 November 2011 and nominally expired on 30 June 2014. Negotiations for a new Enterprise Agreement commenced following the release of a Notice of Employee Representational Rights on 30 May 2014. Though past its nominal expiry, the existing Agreement continued in the interim.
The Enterprise Agreement contains an individual flexibility arrangements clause, which enables the Department to provide additional or varied terms and conditions to individual non-Senior Executive Service staff where necessary and appropriate.
See Part 3.5: Staffing Information for details on the inclusions of the Enterprise Agreement.
Individual determinations
The Department's new Senior Executive Service staff are provided with comprehensive terms and conditions of employment via individual determinations made under Section 24(1) of the Public Service Act 1999. The determinations are made following negotiations between the staff member and the Department.
See Part 3.5: Staffing Information for more information on individual determinations in the Department.
Australian Workplace Agreements
While the Department no longer offers or varies Australian Workplace Agreements (AWAs), there remains some Senior Executive Service staff with AWAs. Section 24(1) determinations are used to supplement the terms and conditions of Senior Executive Service staff covered by an AWA, where new terms and conditions have been negotiated.
Common law contracts
The Department does not generally use common law contracts. However they may be used where necessary to establish and/or supplement conditions and entitlements.
Remuneration for senior officers
The Department maintained a remuneration position consistent with equivalent public sector agencies during 2013-14. Base salaries, bonuses and inclusions, such as the allowance paid in lieu of a motor vehicle, comply with Government policy and guidelines. Total remuneration for Senior Executive Service staff may also include access to performance pay, along with non-monetary inclusions or reimbursements for mobile phones and laptops/tablets. Individual salaries are negotiated on commencement and reviewed annually by the Department's Executive Committee.
Performance pay
While other Departments have rolled performance pay into base salaries, the Department of Health has in 2013-14 retained a performance pay scheme which makes a portion of total remuneration contingent on performance, with the aim of:
attracting and retaining high-performing executive employees possessing the skills and capabilities required by the Department;
recognising and rewarding employee performance, with the use of performance bonuses reinforcing the link between remuneration and improved performance;
encouraging a culture of innovation, continuous improvement and efficiency in delivering Departmental outcomes and objectives; and
encouraging high-performing non-executive staff to build their capability and seek further development and promotion opportunities.
Performance pay is an annual one off payment made to eligible ongoing Executive Level 2 (and equivalent) and Senior Executive Service (and equivalent) staff members who have individual agreements or determinations which provide access to performance pay. To be eligible to receive performance pay, a staff member must complete at least three months of observable performance during a Departmental performance assessment cycle and achieve the required Performance Development Scheme (PDS) rating at the end of the cycle. The amount of performance pay is determined by the performance rating the staff member receives at the end of the performance assessment period.
Learning and development
Capability development within the Department is driven by the Learning and Capability Development Strategy. The Strategy envisages contemporary approaches to meeting current and emerging development needs, in line with APS best practice, and contributing to an unambiguous culture of continuous improvement. To this end, the Department conducts an annual Capability Needs Analysis to inform the scope, design and delivery of learning and development activities.
Off-the-job training courses are designed to provide practical actions that participants can take in the workplace, and with their supervisor, to further their development and to embed a culture of learning. However, core capability development programmes emphasise on-the-job learning, in recognition that it is an effective means of capability development for most needs.
In 2013-14, the Department continued to offer a comprehensive national learning and development curriculum and support for Departmental change initiatives. Regular courses in the core capability development themes contributed 2,813 training places in the following areas:
writing and communications (26%)
information technology (24%)
planning and policy (20%)
HR and people management (14%)
finance, procurement and grants (9%)
career and self development (7%)
Staff were also supported with online learning programmes for recordkeeping, Code of Conduct, cultural awareness and new work, health and safety legislation. Online learning programmes associated with these initiatives were accessed by 1,083 staff. In addition, training was delivered to staff with corporate responsibilities including for First Aid, WHS and Harassment Contact Officers.
The Department is committed to supporting the staff profile changes, including increasing the EL to APS ratio, and has developed and piloted middle manager programmes for EL2, EL1 and APS supervisors.
The Department provided a number of other leadership opportunities for staff including the launch of the Pilot Talent Programme for EL2 staff. Additionally, there was access to online learning through the Corporate Leadership Council, and an informal mentoring programme.
Evaluation confirmed that the programmes met planned learning outcomes with an average rating of 4.21 out of 5 in post training surveys and participants indicating a strong commitment to applying what they learned on the job, with an average rating of 8.63 out of 10 to this question.
In 2013-14, the Department also maintained a range of entry level programmes including the Graduate Development Programme, Indigenous Pathways Programmes, and the Information and Communications Technology (ICT) Programme.
Staff surveys
The staff survey continues to provide valuable insight into staff views. In 2014, the APS State of the Service Employee Census became the Department's primary tool for staff to express their views. 81 per cent of staff participated in the survey between 12 May and 13 June 2014, with almost 70 per cent of staff satisfied with the organisation as an employer.
The survey results show an improvement in staff perception of senior leaders and managers, with almost 80 per cent of staff happy with their immediate supervisor. There was also an improvement in staff wellbeing, with a high number of staff satisfied with their work-life balance and their ability to access and use flexible working arrangements. 85 per cent of staff had a clear understanding of how their work group's role contributed to Health's strategic direction, which is an improvement from 2013 results.
The Department has also implemented a Departmental Activity Survey (DAS) which measures staff effort against Departmental activities. The data from this survey is reported quarterly and has enabled the Department to identify opportunities for workload reductions, make evidence-based improvements to productivity and monitor the benefits from productivity focused change initiatives.
The data collected from the DAS show that the Department's workforce change programme is working. An example of positive workforce change is the creation of the Grant Services Division, which was established in October 2013 to streamline grants processes. The survey results show that grant reforms are having a significant impact on the Department's work, with grant activity reducing by 21 per cent since the survey commenced.
The Department uses staff survey results to form future HR strategies and continually improve the working environment for staff.
Ethical standards
During 2013-14, the Department continued its commitment to high ethical standards. The Department provides new staff with a copy of the APS Values and the APS Code of Conduct, and educates staff about their responsibilities under the Public Service Act 1999 through online training. This mandatory course emphasises the workplace behaviours expected of all staff. This module is currently being updated to reflect amendments made to APS Code of Conduct and introduction of the Public Interest Disclosure Act 2013 on 15 January 2014.
The Department provided education on the new Public Interest Disclosure Act 2013 for staff, with information about the changes through all staff messages, information sessions and the intranet. Training was also provided to Authorised Officers and Investigators, to highlight their roles and responsibilities when dealing with a public interest disclosure.
To support the Managing Conduct intranet site, a Managing Complaints intranet site was developed. The site provides comprehensive information for complainants, managers and respondents on all aspects of the complaints process and highlights the expectations of staff in their conduct and compliance with APS legislation and the Public Interest Disclosure Act 2013. Information sessions were provided across the Department on respect in the workplace, highlighting staff obligations in accordance with the APS Values, Employment Principles and Code of Conduct.
The Department takes all alleged breaches of the APS Code of Conduct seriously and manages processes in accordance with best practice. The majority of complaints received were managed through local supervisory action or preliminary investigation. One employee was formally investigated during 2013-14 for breaches of the APS Code of Conduct. That employee was found to have breached the Code and as a result the employee received a formal reprimand.
Championing Diversity
The Department of Health is committed to reflecting the diversity of the Australian community in its workforce to build an inclusive culture. The Department acknowledges the differences in every employee and encourages diversity in our backgrounds, skills, talents and views to enrich our working environment and quality of work.
As part of this commitment, a number of Senior Executive Service officers have volunteered to undertake the role of Diversity Champion.
Champions have a range of additional roles. They promote diversity in the workplace, raise awareness and understanding, and educate colleagues within their areas and across the Department. They are available to meet with staff networks and individuals to support their work, and advocate where required in relation to diversity issues.
Champions also ensure there is a strong awareness and consideration of diversity and inclusion across the Executive to ensure its importance, impact and value is recognised across the agency.
The Department of Health has a strong reputation as a leader and high achiever in diversity. This reputation has been earned due to concerted efforts to better support and improve the employment of staff across a range of diversity areas. In addition, the Department played a key role in lobbying for the formation of APS-wide Disability Champions and Indigenous Champions Networks, which were established by the Australian Public Service Commission.
The Department's former Secretary, Jane Halton, had a key role on the APS Diversity Council – the Council of Secretaries that aims to improve diversity in the Australian Public Service. The Diversity Council meets regularly and oversees the work of the Indigenous and Disability Champions Networks
In 2013-14, the Department's Diversity Champions were:
Senior Departmental and APS Indigenous Diversity Champion – Samantha Palmer, and
Senior Departmental and APS Disability Champion – Nathan Smyth.
The Department will expand the number of Diversity Champions in 2014-15.
A Champion's Role
I have been privileged to work with and support many amazing staff across the Department as a Diversity Champion since 2009 – first focusing on disability and, since 2012, Indigeneity. In my role as Diversity Champion, I am honoured to support and promote the Aboriginal and Torres Strait Islander Staff Network and Aboriginal and Torres Strait Islander culture. I am a member of the Reconciliation Action Plan Working Group and work with the Diversity team to improve awareness, understanding and respect across the Department and APS because this supports staff retention and recruitment. A better knowledge of Indigenous culture also leads to more culturally appropriate policy and programme design and implementation which contributes to better health for Australia's First Peoples.
As a Diversity Champion, I also meet with and advocate for the Network and individuals where required.
My focus on achieving an inclusive culture means I have also worked to help progress other areas of Diversity for the fantastic people in our Department – this to date has included LGBTI and the culturally and linguistically diverse.
Any member of the Department's staff can engage with me confidentially by phone or in person.
The Department of Health has leaders who are passionate about the employment and support of Aboriginal and Torres Strait Islander peoples. At any time we welcome any existing APS employees of Aboriginal and/or Torres Strait Islander descent to temporarily or permanently transfer into our Department. To apply, simply email a short Expression of Interest to: workforce.diversity@health.gov.au
Samantha Palmer
Departmental and APS Diversity Champion
First Assistant Secretary, Indigenous and Rural Health Division
2013 Australian HR Institute Diversity Champion Award
2013 AFR/Westpac 100 Women of Influence (Diversity)
2014 Departmental Australia Day Award