Online version of the 2014-15 Department of Health Annual Report
Overview
The National Industrial Chemicals Notification and Assessment Scheme (NICNAS) aids in the protection of the health of the Australian people (both the public and workers) and the environment by assessing the risks of industrial chemicals and providing information to promote their safe use.
NICNAS met all of its key performance indicators for 2014-15, and operated within the available budget.
NICNAS contributed to achieving the objectives of the Department of Health under Outcome 7, as highlighted on pages 96 to 119 of this Annual Report.
In summary, NICNAS:
registered almost 5,800 businesses that introduce (import or manufacture) industrial chemicals;
published pre-market assessments for 213 new industrial chemicals;
delivered 98 per cent of certificates and permits for new chemicals within statutory timeframes;
accepted assessment information from overseas agencies or foreign schemes for 12 new chemicals;
conducted post-market reviews of the risks of 1,502 industrial chemicals already in use in Australia;
continued assessing the health impacts of industrial chemicals used in hydraulic fracturing for extracting natural gas from coal seams;
commenced a review of industrial chemicals used in tattoo inks; and
participated in cooperative activities with comparable international agencies.
Administration
At the end of 2014-15, around 80 staff from the Department of Health were working on the Scheme, in five operational teams, three of which were primarily focused on scientific assessment. Approximately 60 per cent of staff are scientists, with 40 per cent in administrative, communication, compliance and related roles. Staff from the Department of the Environment conducted environmental risk assessments of new and existing chemicals for the Scheme.
In August 2014, the Department of Health consolidated its chemical assessment functions within the Office of Chemical Safety. This included integrating staff undertaking human health risk assessments of industrial chemicals (NICNAS) and agricultural and veterinary chemicals, and staff managing the scheduling of chemical poisons on the Poisons Standard (Standard for the Uniform Scheduling of Medicines and Poisons). This amalgamation has yielded many positive results, including shared staff development, and improved efficiency of administrative processes.
Registration
NICNAS's compliance and enforcement activities include registering companies that introduce industrial chemicals in Australia, and reminding registered companies of their legal obligations in relation to the introduction of new industrial chemicals.
By the end of 2014-15, 99.9 per cent of all identified industrial chemical introducers were registered with NICNAS – a total of 5,794 registered introducers. This is an increase of 329 from 2013-14, and represents the highest total number of registrants since the introduction of NICNAS registration in 1997.
New industrial chemicals
NICNAS's core work in assessing new industrial chemicals continued in 2014-15, with 320 certificates and permits for new chemicals issued during the year. The following figures describe trends in the assessment of new chemicals notified by industry.
---
Figure 1: Trends in the number of certificates and permits issued, 1991-92 to 2014-15
Source: NICNAS internal data
---
Figure 2: Trends in the types of certificates issued, 2000-01 to 2014-15, by notification category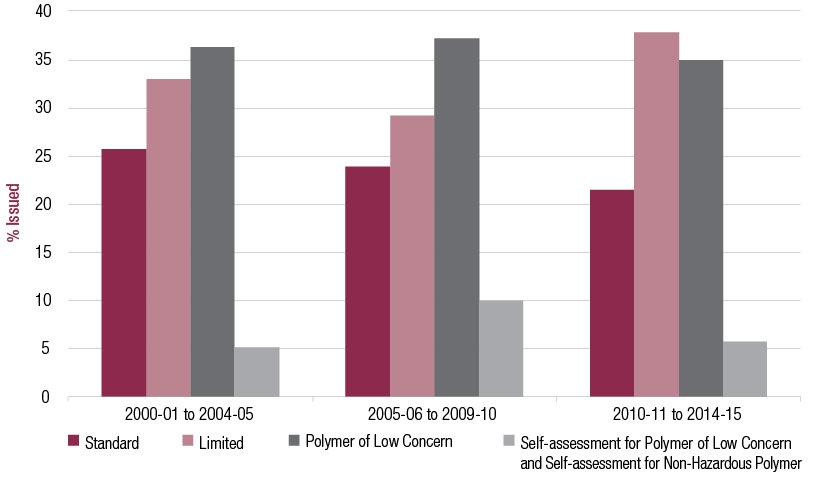 Source: NICNAS Annual Reports and internal data
---
Figure 3: Trends in industrial uses of new chemicals for which NICNAS has issued Standard, Limited and Polymer of Low Concern certificates in three 5-year blocks from 2000-01 to 2014-1550
Chemicals assessed by use 2000-01 to 2004-05
Chemicals assessed by use 2005-06 to 2009-10
Chemicals assessed by use 2010-11 to 2014-15
Figure 3 source: NICNAS Annual Reports and internal data
---
Figure 4: Contrast between manufactured and imported new chemicals for which NICNAS has issued Standard, Limited and Polymer of Low Concern certificates from 2008-09 to 2014-15, by industrial sector/use
Chemicals assessed for manufacturing
Chemicals assessed for importing
Figure 4 source: NICNAS internal data
---
Figure 5: Industrial use of chemicals issued Standard, Limited or Polymer of Low Concern certificates from 2008-09 to 2014-15
Standard certificates
Limited certificates
Polymer of Low Concern certificates
Figure 5 source: NICNAS internal data
Existing industrial chemicals
In 2014-15, NICNAS's Inventory Multi-tiered Assessment and Prioritisation (IMAP) Framework project successfully met the target for assessments of existing chemicals by completing 454 assessments at Tier I (high throughput) level, and 1,348 at Tier II (chemical by chemical risk assessment). This brought the total human health and environment assessments completed using the IMAP Framework to 4,210 for a total of 3,185 chemicals since 1 July 2012.51
The IMAP Framework facilitates the assessment of existing chemicals selected on the basis of their high volume of use, specific risk management requirements in countries like Australia, or because reports indicated their presence in human cord blood. IMAP assessments have resulted in a number of risk management recommendations (see Table 1):
Table 1: IMAP risk management recommendations, by relevant sector, 2012-15
Nature of recommendation
Agency

Number of recommendations

Total by sector

2012-13

2013-14

2014-15

Work health and safety
Safe Work Australia

188

735

663

1,586

Public health
Department of Health

56

153

137

346

Consumer/product safety
Australian Competition and Consumer Commission

11

73

77

161

Environment
Department of the Environment

0

8

191

199

Further in-depth chemical assessment at IMAP Tier III
NICNAS

13

38

173

224

Total for each year

268

1,007

1,241

2,516
IMAP provides an excellent example of a targeted risk-based and proportionate approach to regulation that maintains public health and safety and environmental protections, while also reducing unnecessary burden on business, the community, and individuals.
Priority Existing Chemical (PEC) reports were published on two phthalate chemicals: Diisodecyl phthalate — DIDP and Di-n-octyl phthalate — DnOP in 2014-15. Two 'secondary notification' assessment reports were drafted (on Fluorosurfactant FC-4430 and Chemical in Reagent S-10104 Promoter) for public consultation. Seventy-five inquiries were received concerning potential secondary notification of previously assessed chemicals, of which 22 remained under consideration at the end of 2014-15.
In 2015-16, NICNAS staff will continue to assess existing chemicals using the IMAP Framework, including commencing in depth Tier III chemical assessments to fully determine their human health and/or environmental impacts. In addition, staff will review all aspects of the IMAP project methodology.
NICNAS reforms
During the past year, NICNAS staff have contributed technical and other relevant input to the Department's policy review of NICNAS. In May 2015, the Government announced reforms aiming to maintain NICNAS's robust safety standards, while further reducing the regulatory burden on industry by focusing the level of assessment proportionately to the potential risks posed by industrial chemicals.
The reforms involve:
rebalancing pre- and post-market regulatory requirements to match the indicative risk profile of a new chemical;
streamlining the existing risk assessment process for new and existing chemicals;
making greater use of international assessment materials; and
employing more appropriate compliance tools.
Stakeholder engagement
NICNAS continues to cooperate and work with a wide range of stakeholders, including other Government entities, the chemicals industry, and community groups, to promote the safe use of industrial chemicals and the uptake of risk management recommendations arising from chemical assessments.
Following engagement about consultative arrangements with stakeholder groups, the Assistant Minister for Health approved a new committee structure to be implemented in early 2015-16. A Strategic Consultative Committee, with representation from peak industry and community groups, will replace the former Industry Government Consultative Committee and Community Engagement Forum.
International engagement
As part of ongoing efforts to harmonise international standards and risk assessment methods, NICNAS staff continued to participate in forums organised by the Organisation for Economic Co-operation and Development.
Managing financial performance
The table below provides a five year comparison of NICNAS revenue and expenses.
2010-11
$'000
2011-12
$'000
2012-13
$'000
2013-14
$'000
2014-15
$'000
Industry cost recovered revenue
8,586
9,014
11,089
12,819
13,045
Other revenue
809
836
2,809
2,094
1,023
Total revenue
9,395
9,850
13,898
14,913
14,068
Total expenses
9,259
10,004
13,074
13,906
13,764
Operating surplus/(deficit)
136
(154)
824
1,007
304
Compared with 2013-14, total revenue and expenses in 2014-15 have decreased by $0.845m and $0.142m respectively.
Industry cost recovered revenue in 2014-15 was $13.045m, which is $0.226m higher than the previous year. Cost recovery revenue is affected by changes to NICNAS fees and charges (in accordance with the NICNAS Cost Recovery Impact Statement - CRIS), the number of companies introducing relevant industrial chemicals, and the number of chemicals notified for assessment.
Net revenue from other sources was $1.023m, which is $1.071m lower than the previous year, primarily due to the completion of an externally funded project.
Total expenses were $13.764m, which is $0.142m lower than the previous year. This result is net of a decrease in costs related to externally funded projects of $0.896m, offset by an increased level of core regulatory activities of $0.754m.
The NICNAS final net result for 2014-15 was a surplus of $0.304m. This is consistent with the planned result forecast in the NICNAS CRIS, which allowed for an increase in the NICNAS reserve by the amount of the interest equivalency payment.
Conclusion
I wish to thank all who have supported NICNAS in its activities in 2014-15, including members of the NICNAS consultative committees and working groups. In particular, I would specifically like to acknowledge the commitment of the highly skilled and dedicated staff in both the Department of Health and the Department of the Environment who support the Scheme.
Dr Brian Richards
Director, NICNAS
September 2015
Contact details
Email address: info@nicnas.gov.au
Phone: +61 2 8577 8800
Freecall: 1800 638 528
Address: GPO Box 58, Sydney NSW 2001 AUSTRALIA
NICNAS operates in conjunction with:
The Department of Immigration and Border Protection (Border Management - Programme 1.2) for reviewing importation of industrial chemicals
The Department of Industry (Programme Support - Programme 1.3) in relation to COAG chemical reforms
The Attorney-General's Department (National Security - Programme 1.2) for managing chemicals of security concern
The Department of the Environment (Management of Hazardous Wastes, Substances and Pollutants - Programme 1.6), the Department of Employment (Safe Work Australia) and the Treasury (Australian Competition and Consumer Commission) for managing risks arising from industrial chemicals.