Western Australian results – Figures
Western Australian results –Tables
Summary
---
Trachoma program coverage
Screening coverage
Clean face prevalence
Trachoma prevalence
Treatment delivery and coverage
Trichiasis
Health promotion
---
Western Australian results Figures
Figure 4.1 Trachoma prevalence in children aged 5-9 years, number of communities that were screened treated or both for trachoma and number of at-risk communities in Western Australia, 2013
Top of page
Figure 4.2 Number of communities at risk, by region, in Western Australia, 2007 – 2013
Figure 4.3 Number of at-risk communities, by region, according to trachoma control strategy implemented, Western Australia, 2013
Top of page
Figure 4.4 Population screening coverage in children aged 5-9 years in communities that required screening for trachoma, by region, in Western Australia in 2013
Figure 4.5 Proportion of screened children aged 5-9 years who had a clean face, by region, in Western Australia, 2007 – 2013
Top of page
Figure 4.6 Trachoma prevalence among children aged 5-9 year in communities that were screened, by region, in Western Australia, 2007 – 2013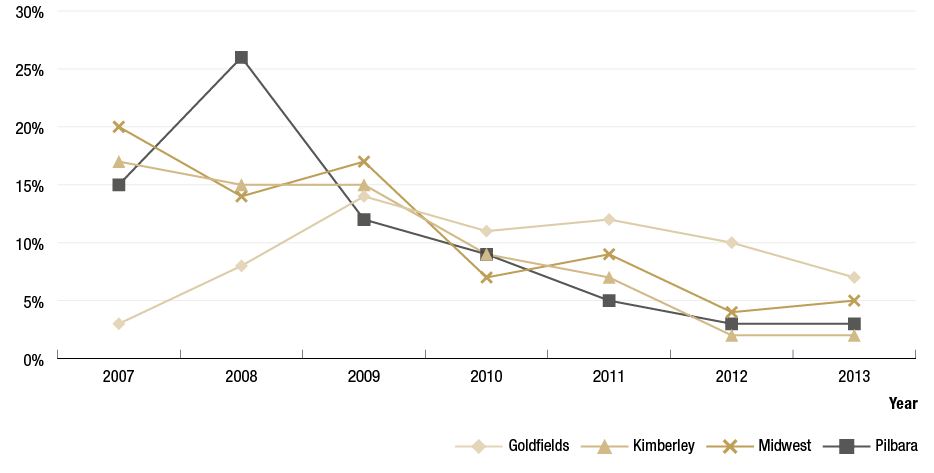 Figure 4.7 Number of at-risk communities according to level of trachoma prevalence in 5-9-year-old children in 2013, by region, in Western Australia
Top of page
Figure 4.8 Communities according to number of years* of trachoma prevalence under 5% by region, in Western Australia, 2013
* 5 years with a prevalence below 5% classifies a community as not at risk of trachoma
Figure 4.9 Number of doses of azithromycin administered for the treatment of trachoma by Western Australia region, 2007 – 2013
Top of page
* Treatments administered in the Kimberley in 2007 are likely to have been under-reported, as treatment data were not received from several communities
† In the Kimberley in 2008, 17 communities were reported to have received 'community-based treatment', compared with only seven in 2009
Western Australian results Tables
Table 4.1 Trachoma control delivery in Western Australia in 2013

Number of communities

Goldfields

Kimberley

Midwest

Pilbara

Total

Not at-risk

* Communities treated without screening in 2013 as per guideline instructions

At risk* (A)

21

28

8

14

71

..

Requiring screening for trachoma (B)

21

28

8

14

71

..

Screened for trachoma (C)

21

28

8

14

71

2

Requiring treatment only (D)

N/A

N/A

N/A

N/A

N/A

N/A

Treated† (E)

N/A

N/A

N/A

N/A

N/A

N/A

Screened and/or treated for trachoma (F = C+E)

21

28

8

14

71

2

Requiring neither screening or treatment for trachoma (G=A-B-D)

N/A

N/A

N/A

N/A

N/A

N/A
Top of page
Table 4.2 Trachoma screening coverage, trachoma prevalence and clean face prevalence in children (0-14 years old), by region, in Western Australia in 2013

Goldfields

Kimberley

Midwest

Pilbara

Total

Not at-risk

* Jurisdictional estimate

Number of communities screened

21

28

8

14

71

2

Age group (years)

0-4

5-9

10-14

0-14

0-4

5-9

10-14

0-14

0-4

5-9

10-14

0-14

0-4

5-9

10-14

0-14

0-4

5-9

10-14

0-14

0-4

5-9

10-14

0-14

Children examined for clean face

94

364

259

717

77

825

264

1166

29

129

126

284

53

192

162

407

253

1510

811

2574

3

36

13

52

Children with clean face

38

231

233

502

33

607

243

883

20

117

124

261

32

157

149

338

123

1112

749

1984

3

29

13

45

Clean face prevalence (%)

40

63

90

70

43

74

92

76

69

91

98

92

60

82

92

83

49

74

92

77

100

81

100

87

Estimated number* of Aboriginal children in communities

105

418

334

857

102

932

369

1403

37

137

132

306

57

197

178

432

301

1684

1013

2998

5

62

42

109

Children examined for trachoma

94

364

259

717

75

823

270

1168

29

129

126

284

53

192

162

407

251

1508

817

2576

3

35

12

50

Trachoma screening coverage (%)

90

87

78

84

74

88

73

83

78

94

95

93

93

97

91

94

83

90

81

86

60

56

29

46

Children with active trachoma

9

25

15

49

1

20

4

25

2

6

3

11

3

6

0

9

15

57

22

94

0

0

0

0

Active trachoma prevalence (%)

10

6.9

5.8

6.8

1.3

2.4

1.5

2.1

6.9

4.7

2.4

3.9

5.7

3.1

0.0

2.2

6.0

3.8

2.7

3.6

0.0

0.0

0.0

0.0
Top of page
Table 4.3 Treatment strategies, by region, in Western Australia in 2013

Number of communities

Goldfields

Kimberley

Midwest

Pilbara

Total

*Communicable Diseases Network Australia. Guidelines for the public health management of trachoma in Australia. March 2006
† Three communities in both Goldfield and Midwest regions did not provide estimates for contacts requiring treatment, and active cases only were treated

At risk

21

28

8

14

71

Treated for trachoma

14

10

6

4

34

Screened and treated

14

10

6

4

34

Received treatment only

N/A

N/A

N/A

N/A

N/A

Received 6-monthly treatment

N/A

N/A

N/A

N/A

N/A

Did not require treatment

7

18

2

10

37

Treated active cases and households

9

8

6

4

27

Treated the whole of community

5

2

0

0

7

Not treated according to CDNA guidelines

0

0

0

0

0
Top of page
Table 4.4 Trachoma treatment coverage in Western Australia in 2013

Goldfields

Kimberley

Midwest

Pilbara

Total

Age group (years)

0-4

5-9

10-14

15+

All

0-4

5-9

10-14

15+

All

0-4

5-9

10-14

15+

All

0-4

5-9

10-14

15+

All

0-4

5-9

10-14

15+

All

Active cases requiring treatment

9

25

15

..

49

1

20

4

..

25

2

6

3

..

11

3

6

0

..

9

15

57

22

..

94

Active cases who received treatment

9

24

15

..

48

1

20

4

..

25

2

6

3

..

11

3

6

0

..

9

15

56

22

..

93

Active cases who received treatment (%)

100

96

100

..

98

100

100

100

..

100

100

100

100

..

100

100

100

N/A

..

100

100

98

100

..

99

Estimated contacts requiring treatment

34

60

49

183

326

62

79

73

89

303

2

9

9

26

46

4

10

9

19

42

102

158

140

317

717

Number of contacts who received treatment

34

60

49

182

325

41

63

61

88

253

2

9

9

26

46

4

10

9

19

42

81

142

128

315

666

Estimated contacts who received treatment (%)

100

100

100

99

100

66

80

84

99

83

100

100

100

100

100

100

100

100

100

100

79

90

91

99

93

Total number of doses of azithromycin delivered

43

84

64

182

373

42

83

65

88

278

4

15

12

26

57

7

16

9

19

51

96

198

150

315

759

Estimated overall treatment coverage (%)

100

99

100

99%

99

67

84

84

99

85

100

100

100

100

100

100

100

100

100

100

82

92

93

99

94
Top of page
Table 4.5 Trichiasis screening coverage, prevalence and treatment among Aboriginal adults, by region, in Western Australia in 2013

Goldfields

Kimberley

Midwest

Pilbara

Total

*Population estimate limited to trachoma endemic regions and does not take into account changing endemic regions over time and transiency between regions
† Number of adults examined limited to numbers reported.This number does not account for adults who may be examined in routine adult health checks, and may also include multiple screening

Number of communities screened for trichiasis

19

25

6

14

64

Age group (years)

15-39

40+

15-39

40+

15-39

40+

15-39

40+

15-39

40+

15+

Estimated population in region

1243

803

2906

1639

356

274

1393

734

5898

3450

9348

Adults examined†

149

289

..

1010

12

92

..

265

161

1656

1817

With trichiasis (% of adults examined)

0

1 (0.3%)

..

7 (0.7%)

0

0

..

0

0

8 (0.5%)

8 (0.4%)

Offered ophthalmic consultation

0

1

..

6

0

0

..

0

0

7

7

Declined ophthalmic consultation

0

1

..

0

0

0

..

0

0

1

1

Surgery in past 12 months

0

0

..

6

0

0

..

0

0

6

6
Top of page
Table 4.6 Health promotion activities, by region, in Western Australia in 2013

Goldfields

Kimberley

Midwest

Pilbara

Total

* 2-4 times per year
† 5-12 times per year

Number of communities at risk

21

28

8

14

71

Number of communities who reported health promotion activities

21

28

8

14

71

Total number of programs

68

59

8

34

169

Methods of Health Promotion
One-on-one discussion

17

6

..

14

37

Presentation to group

21

29

8

1

59

Interactive group session

18

18

8

9

53

Social marketing

..

5

..

..

5

Print material/mass media

20

24

8

10

62

Sporting/community events

1

..

..

..

1

Other

5

1

..

..

6

Target audience
Health professionals/staff

20

..

..

4

24

Children

22

30

8

12

72

Youth

2

5

..

8

15

Teachers/childcare/preschool staff

18

19

8

10

55

Caregivers/parents

3

9

7

11

30

Community members

2

14

8

9

33

Community educators/health promoters

1

1

1

1

4

Interagency members

..

..

..

1

1

Frequency of health promotion activities
Once

41

9

8

11

69

Occasional*

11

38

..

1

50

Regular†

..

6

..

5

11

Ongoing/routine

18

6

..

17

41
Top of page
Health promotion summary
The promotion of facial cleanliness was the key strategy for health promotion activity across the endemic regions. Numerous school education sessions were conducted using the 'No Germs on Me' trachoma resources, the 'Clean Faces, Strong Eyes' story kits and interactive displays to demonstrate trachoma transmission and the importance of clean faces and hands in preventing trachoma infection. Puppet shows were developed to illustrate transmission vectors and were used in education sessions. The school sessions incorporated community education in a number of communities to further reinforce the prevention messages.
Considerable work has been undertaken in the Pilbara to increase the levels of health promotion around facial cleanliness and hygiene. This approach has included working with Aboriginal Medical Services, schools and communities across the region to ensure that consistent messaging about facial cleanliness was available all year round. Education sessions with mums and families took place at Football Carnivals three times per year and resources were left with different stakeholders to be used at different times. Desert sinks were used to encourage children to wash their hands and faces and clown doctors used clown humour to communicate the message. Following screening, community level results were presented to communities in a visual way to encourage ownership of health outcomes
Work with schools in ensuring adequate facilities for hand washing was an important strategy for the Health Promotion Officer in the Goldfields. Advocating for the installation of hand-washing stations, provision of disposable paper towels and soap-making activities were seen as particularly successful. The provision of face packs (containing a face washer, tissues and soap) for each child screened in the Goldfields encouraged greater levels of facial cleanliness and an increased awareness in education staff about the importance of personal hygiene.
In addition to school education sessions, local media in the Kimberley were used to promote the trachoma prevention message. Community service announcements in local languages were developed for radio to reinforce messages about trachoma prevention, transmission and treatment, as well as raise awareness about upcoming screening in communities. Pamphlets were also produced with key messages and local contact information for distribution across the region. Additionally, sponsorship of events such as the King of the Kimberley basketball carnival and a Clean Yard Competition provided further opportunities for promotion of the trachoma prevention message.
Community barbeques were held in Halls Creek Shire communities to give communities the screening results, further increasing the engagement of these communities with the program messages.