A print friendly PDF version is available from this Communicable Diseases Intelligence issue's table of contents.
Margaret Lesjak,1 Valerie Delpech,2 Mark Ferson,1 Keira Morgan,1 Paul Paraskevopoulos,1 Jeremy McAnulty2
Abstract
Salmonella Mgulani has been isolated sporadically over the years in Australia, mainly in Queensland. In December 1999 and January 2000 an outbreak involving 42 laboratory-confirmed cases occurred in New South Wales and the Australian Capital Territory. DNA fingerprints of seven isolates tested were all similar to each other and to historical isolates from other Australian sources but not to an imported isolate. No source of the outbreak was identified. Commun Dis Intell 2000;24:304-305.
Salmonella
Mgulani is rarely isolated in Australia. Between 1988 and 1998 the National Enteric Pathogens Surveillance Scheme (NEPSS) received 242 human notifications from Queensland, 5 from New South Wales, 3 from Victoria, and 1 each from the Northern Territory and South Australia. Most cases were in children under the age of 2 years.
1,2
In contrast to the sporadic nature of
S
. Mgulani infections in Queensland (Figure) a distinct cluster of cases was first reported by the Institute for Clinical Pathology and Medical Research in New South Wales in December 1999. The South Eastern Sydney Public Health Unit coordinated the investigation of this rise in New South Wales cases. Between December 1999 and January 2000, 42 laboratory-confirmed cases were identified through active and passive surveillance. Their ages ranged between 4 months and 88 years (mean age 17 years); one third were aged 2 years or less. The male to female ratio was 1:1. Over half (56%) were residents of greater western Sydney. Ten cases (24%) had positive blood cultures. Of the 42 cases, 33 (or their carers) were interviewed; 2 could not be interviewed because of language barriers and 7 because of long delays in notification. Thirteen (40%) cases interviewed were from non-English speaking backgrounds. Food histories reflected seasonal availability with no common food source detected. The most commonly eaten foods were mangoes, bananas and apples (58%, 48% and 33% respectively eaten by all ages). No environmental source was detected.
Figure. Salmonella Mgulani cases, New South Wales and Queensland, January 1988 to January 2000, by isolation date*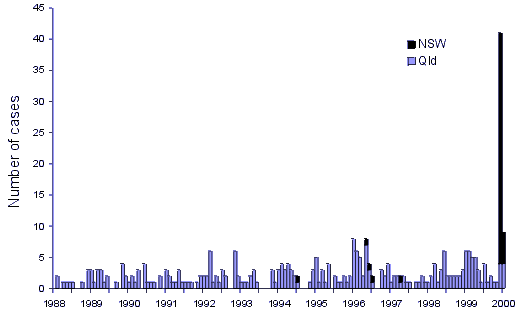 DNA fingerprints of seven isolates (two from the Australian Capital Territory and five from New South Wales) were compared with recent historical Australian (human, bovine, food and environmental samples) and overseas (imported chilli powder from India) isolates by staff of the Australian Salmonella Reference Centre (ASRC) in Adelaide. DNA analysis using pulsed-field gel electrophoresis of Xba 1 enzyme digests was by Gel-Compar.
3
This revealed that the outbreak strains were very similar, and were 95 per cent similar to historical Australian isolates but different from the imported chilli powder isolate.
There is little published on the ecology of
S
Mgulani, other than its first reported isolation in Tanzania
4
and later isolation in India.
5
Routine laboratory surveillance of salmonellosis in New South Wales - with supplementary typing performed by reference laboratories - was able to detect a change in
S
. Mgulani epidemiology in this outbreak. DNA fingerprinting suggests that both the outbreak isolates and historical isolates in Australia had a common source and, given the origins of the majority of previous cases, this was most likely in Queensland.
This cluster was unusual in the wide age range of people affected, the number with positive blood cultures and the diverse backgrounds of the cases involved. Cases were concentrated in greater western Sydney with a few as far as Newcastle, the Australian Capital Territory and the New South Wales south coast. No obvious food or environmental source was found. Reporting delays impeded detailed investigation of 17 per cent of cases. Even where follow-up of all salmonellosis cases is not feasible, the timely communication of standardised typing results helps enhance outbreak identification and investigation.
Acknowledgements
We gratefully acknowledge the assistance of Dianne Davos and Rina Willmore at ASRC for the DNA fingerprinting, Ed Kraa of New South Wales Health for helpful advice and Joan Powling of the Microbiological Diagnostic Unit for the use of NEPSS data.
Top of page
Author Affliations
1. South Eastern Sydney Public Health Unit, Zetland, New South Wales.
2. Communicable Diseases Surveillance and Control Unit, New South Wales Health, North Sydney, New South Wales.
Corresponding author: Dr Margaret Lesjak, South Eastern Sydney Public Health Unit, LMB 88, Zetland, NSW, Australia 2031, Telephone: (02) 9382 8333; Fax: (02) 93828334. E-mail: LesjakM@sesahs.nsw.gov.au.
References
1. Australian Salmonella Reference Centre. Salmonella 1997 Annual Report. Adelaide: Institute of Medical and Veterinary Science, 1998.
2. Australian Salmonella Reference Centre. Salmonella 1998 Annual Report. Adelaide: Institute of Medical and Veterinary Science, 1999.
3. Maslow JN, Slutsky AM, Arbeit RD. Application of pulsed-field gel electrophoresis to molecular epidemiology. In: Persing DH, Smith TF, Tenover FC, White TJ, editors. Diagnostic molecular microbiology: principles and applications. Washington DC: American Society for Microbiology, 1993.
4. Telling R, Taylor J, Souglas HS. Four new
Salmonella
serotypes from human sources in Tanganyika Territory.
Mon Bull Minist Health Public Health Lab Serv
1951;10:251.
5. Iyer TSG, Varma PR, Gupta S, John PC, Saxena SN.
Salmonella mgulani
(38:i:1,2) isolated for the first time in India.
J Commun Dis
1990;22:283-284.
This article was published in
Communicable Diseases Intelligence
Volume 24, No 10, October 2000.